Le Balchimiste (solo)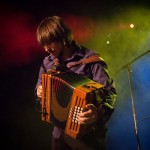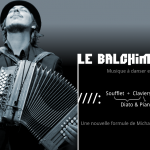 LE BALCHIMISTE (fr)
Michaël Bideault (accordéoniste des groupes Accordzéâm et Estrad) dévoile un bal en solo, dans lequel il mêle accordéon diatonique, piano et pédale de boucle.
Au fil des danses, il interprète un grand nombre de compositions personnelles agrémentées de quelques reprises du répertoire folk.
« Le Balchimiste », c'est le personnage qui permet à Michaël d'expérimenter différentes formes d'expression musicale, et leurs effets sur le ressenti des danseurs.
En bref, voici un bal dans la mouvance néotrad, qui vise à explorer l'alchimie entre musique et danse..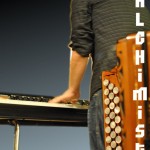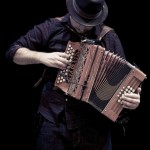 THE BALCHIMIST (en)
Here is a whole solo bal, where Michaël Bideault (Accordzéâm, Estrad) plays the diatonic accordion… but also the the piano and with a loop station.
One dance after another, you will hear numerous personnal compositions, as well as some known « folk » musics.
« Le Balchimiste » is a character : it's the role that allows Michael to experiment different musical expressions and their effect on the dancer's feeling.
In short, come to this neotrad' bal and try to seek for the alchemy between dance and music !